There are more than 800 enterprises involved in robot production and integration applications in China, of which more than 200 are robot body manufacturing enterprises. However, most companies focus on assembly and processing.
A few days ago, at the Shanghai Industrial Fair, the huge robot exhibition area of ​​50,000 square meters was crowded. A new lineup of 227 companies including industrial robots, system integration applications, core components and service robots has made this exhibition a special event. In the noisy crowd, you will find the "Made in China" robot from time to time. In the past, Chinese companies are no longer the supporting role of the robot industry. Instead, they have challenged the four major international families (abb, KUKA, Yaskawa, FANUC) with new products, new technologies and robotic solutions. The future of automation The high-tech world is also getting closer.
Chinese power
Xinsong Robot Automation Co., Ltd. launched its first dual-arm writing robot developed in China at the Industry Fair. Its flexible multi-joint technology and movable binocular vision system are both flexible and autonomous. Light-duty compound robots for automated plants, warehouse sorting and automated goods supermarkets also appeared at the same time. Since the beginning of this year, the artificially taught 6-axis parallel robot and 7-DOF cooperative robot are all products of Xinsong. They also cooperate with Jingdong Company in smart warehousing and high-speed sorting equipment, and research and development and testing meet the e-commerce operation needs. Logistics machinery.
Guangzhou CNC Equipment Co., Ltd., which has reached the age of 10 this year, has also placed part of its business on industrial robots, which have a wide range of products including handling, welding, grinding, painting, palletizing and paralleling. Eft Intelligent Equipment Co., Ltd. (hereinafter referred to as "Eft"), which was born out of Chery Automobile Equipment Department, has been an important industrial robot supplier on the Chery Automobile production line after years of research and development. Eft has built 1,000 industrial robot assembly inspection lines. Last year and this year, it also acquired Italian CMA and EVOLUT, respectively, and entered the field of coating and high-end robot integration applications.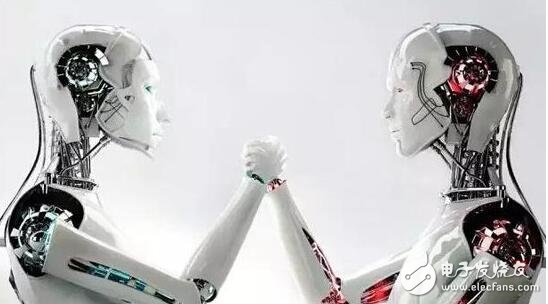 Huang Feng, the CEO of Shanghai Forsett Robot Co., Ltd. and his partners are working on a small robot for the 3C field, which has a weight of only 22.5 kg, but has a working radius of 750 mm. The load is large and the precision is high. It will be launched next year. In addition, the rise of Dajiang, Xinshida, Demeike, Eston, Liqun Automation, and Saiteng's rapid development of local enterprises in recent years is also worthy of attention.
At the same time, unlike the industrial robot application field, there are also rushing service robots.
Tamitech has developed a 3 meter skeletal robot that can sense the gender of the opposite person through perception, and then use the facial sensation to make shy, happy expressions, accompanied by fluent Chinese and English conversations. . The theme restaurant robot will not only greet the guests actively, but also automatically complete the ordering, delivery, checkout and other services, without the need for manual intervention, can be applied to banks, hospitals, government offices and other places. The children's partner robot of Beijing Radish Technology Co., Ltd. is aimed at children aged 3~6 years old, intelligent voice interaction, DIY sports programming, professional early education content, personality development, and it also has built-in popular English children's songs, traditional classic Chinese studies, etc. Less early education content.
Technology is competitive
According to the National Bureau of Statistics, China's industrial robot production in 2015 was 32,996 units, an increase of 21.7%. According to the statistics of the China Robotics Federation, in 2015, the self-owned brand industrial robots produced a total of 22,257 units, an increase of 31.3%. The growth rate of independent brands is higher than that of the entire robot industry.
Although there are many types of products, the overall manufacturing capabilities of domestic robots, especially industrial robots, are still in shortcomings.
Wang Jiegao, chief engineer and deputy general manager of Nanjing Eston Group, stressed in an interview with the media that core technology is the competitiveness of enterprises and is more important than investment. So how much is the local enterprise in the core technology of the robot?
The upstream core components, the midstream robot body and the downstream system integration form the industrial chain of industrial robots. The upstream core components include precision reducers, servo motors and control systems.
Precision reducers account for 35% of the cost of industrial robots, but the global market is basically monopolized by Nabtesco and Hamernaco in Japan. Huang Feng told reporters, "Now, the control system, the reducer, the servo motor that signals the joints and how the joints move can not be produced independently. Some parts of our Forsyth robots must also be imported from overseas. Some big brands such as ABB. In fact, manufacturers must also purchase parts and components of others, but the core design patents of the products are still in their own hands." Therefore, Forsyth is taking a route of "autonomous technology plus overseas manufacturing", the underlying software of robots and The control system is in the hands of Forsett, but the product itself is done by the German R&D team.
Technology is temporarily unable to win, and there is no need to die overseas. Finding a partner to make a robot is the truth that Efte realized. At the beginning of the establishment of the enterprise, the management did not find the professional off-the-shelf technology of the 6-axis robot after a round of investigation. It decided to cooperate with Harbin Institute of Technology to gather the strengths of all parties to study the technology, and finally made progress.
At the same time, the strong cooperation between IT and robots, automation companies and other international companies is also worthy of attention. During the industry fair, companies including FANUC, Cisco, Rockwell Automation, etc. have jointly developed a solution called "FIELDsystem", which can realize machine tools, robots, and Peripheral equipment and sensor connections and advanced data analysis to improve production quality, efficiency, flexibility, and equipment reliability. FIELDsystem also implements advanced machine learning and deep learning capabilities, which are also iconic products for Industry 4.0. Therefore, Chinese companies must not only fill in the shortcomings of core technology, but also the ability of robots to extend to intelligence and big data.
Service robots seem to be simpler to design than industrial robots, but they also have components such as chips, gears, and sensors. The final assembly, operating system, and cloud system are also very familiar. Service-oriented robots have many industries, and mass production has not yet been realized. Japanese companies that use more service-oriented robots are in a state of loss.
Xinsong robots currently have public services and medical services. Promotional shopping guides, welcome displays, and leading-edge explanations have been sold in more than ten provinces and cities. In addition, the company's first ablation medical assisted robot for cancer treatment, which was developed by the company, is also in the clinical application stage. It has also launched an orthopedic traction robot.
At the beginning of this year, the Ministry of Industry and Information Technology's survey of the national robot industry initially showed that there are more than 800 enterprises involved in robot production and integrated applications in China, of which more than 200 are robotic body manufacturing enterprises. However, most of the companies focus on assembly and processing. The products are mainly concentrated in three-axis and four-axis middle and low-end robots. In the future, more robots with more than six axes will be needed. At present, the scale of China's robot enterprises is also generally small, with over 90% of enterprises having an annual output value of less than 100 million yuan.
The Manual Motor Startor is Korlen electrical appliances anther products. manual motor startor overload relay is in main circuit of long time working. It is used to protect AC three-phase asynchronous motor against overload and open phase. It conformity with IEC947-4, VDE0660,GB14048.4 standards . As a motor starter switch in china ,korlen will do the best electrical motor controls for customers.
Manual Motor Starter,Motor Starter,KNS12,China Motor Starter
Wenzhou Korlen Electric Appliances Co., Ltd. , https://www.zjaccontactor.com