Diodes Incorporated introduces miniature DC-DC converters that support step-up, step-down and Voltage reverse circuit topologies for LED lighting and general power management applications. The AL8811 is packaged in a 3.0mm x 4.9mm x 1.1mm MSOP-8L package. With only a few external components, it can effectively reduce the circuit footprint and bill of materials costs.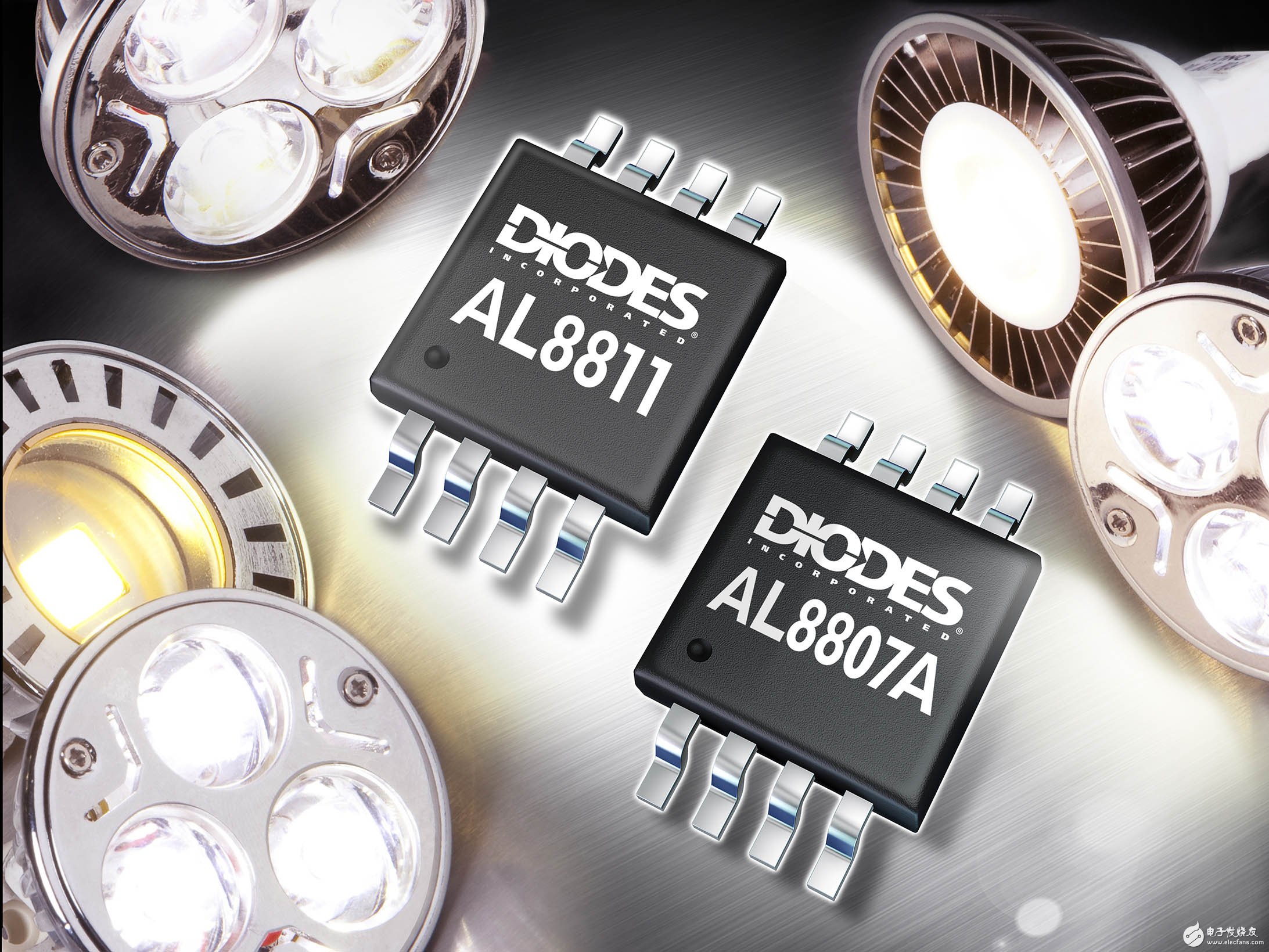 AL8811 is suitable for a variety of low-voltage LED lighting applications, especially dimmable MR16 lamps. For example, designers can use the boost mode of AL8811 and AL8807A buck LED driver to form a high power factor dimmable MR16 solution, which not only has a compact area, but also has low component cost. In addition, this two-stage design can achieve low LED current ripple and achieve good compatibility with a variety of electronic transformers.
AL8811's wide input voltage operating range is 3V to 20V, plus an output voltage of up to 36V, suitable for a variety of 12V AC lighting applications. The output off-state current of this device is as low as the standard 0.01μA, and the maximum output switching current is 1.6A.
The AL8811 converter has an internal temperature-compensated voltage reference, is equipped with a current limiting circuit, a duty cycle controlled oscillator, driver and high current output switch, providing designers with a versatile solution for DC-DC conversion circuits.
For further product information, please visit.
Diodes Introduction
Diodes Incorporated is a S & P SmallCap 600 Index and Russell 3000 index company. It is a leading global manufacturer and supplier of discrete, logic and analog semiconductor products, serving consumer electronics and computers. , Communications, industrial and automotive markets. Diodes products include diodes, rectifiers, transistors, MOSFETs, protection devices, special function arrays, single-gate logic, amplifiers and comparators, Hall effect and temperature sensors, covering LED drivers, AC-DC converters and controllers, DC- Power management devices including DC switches and linear regulators, voltage references, and special function devices such as USB power switches, load switches, voltage monitors, and motor controllers.
Diodes' headquarters, logistics center and US sales office are located in Plano, Texas, USA, and are located in Plano, San Jose, California, Taipei, Manchester, United Kingdom and Neuhaus, Germany Design, marketing and engineering centers; wafer manufacturing plants in Kansas City and Manchester, Missouri, and two in Shanghai; two assembly and test facilities in Shanghai and Chengdu; and Neue in Germany One each in House and Taipei; engineering, sales, warehousing and logistics offices in Fort Worth, Taipei, Hong Kong, Manchester, Shanghai, Shenzhen, Seongnam and Suwon in South Korea, Tokyo and Munich; and With sales and support offices around the world.
For more detailed information, including SEC files, please visit the company's website:.
An 18650 is a Lithium Ion rechargeable battery .
Their proper name is [18650 Cell".
The 18650 cell has voltage of 3.7V and has between 1800mAh and 3500mAh (mili-amp-hours).
There are two types; protected and unprotected.
We absolutely recommend protected 18650 batteries.
The average 18650 battery charge time is about 4 hours.
Charge time can vary with amperage and voltage of the charger and the battery type.
rechargeable batteries, imr 18650, nimh battery
Ji'an Powercom New Energy Co., Ltd. , https://www.expowercome.com