[Text / high-tech LED reporter Liu Pingping]
Since 2012, the market demand for LED lighting has increased rapidly. According to the statistics of the High-tech LED Industry Research Institute (GLII), the output value of LED indoor lighting in China in 2012 was 33.5 billion yuan, an increase of 80%. GLII expects that the scale of China's LED indoor lighting output will maintain a high-speed growth trend in 2013, which will reach 55.7 billion yuan, a year-on-year increase of 66%.
Faced with the sudden growth of the LED lighting market, problems such as labor shortage, low production capacity, high production cost, weak product quality consistency, and difficult manual management are becoming more and more prominent. With the gradual enlargement of the LED lighting market and the gradual disappearance of the demographic dividend, the traditional artificial production mode LED lighting enterprises will face bottlenecks in development, and it is imperative for enterprises to implement automated production.
The ZWL-A1500 LED luminaire automation 1.5K production line developed by Hangzhou Zhongwei Optoelectronic Technology Co., Ltd. (hereinafter referred to as "Hangzhou Zhongwei") is the only intelligent automatic manufacturing system for LED lamps that has been mass-produced in China. It has realized the development of LED lighting industry. Upgrade docking, solve the problem of large-scale manufacturing industry, completely replace a large number of manual production with mechanical automation, ensure the consistency and yield of product quality with automatic online testing technology, and connect the entire production process with information software integration technology. The company has achieved efficient production data management capabilities.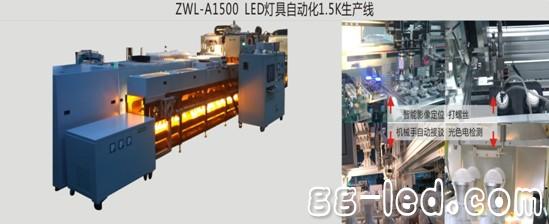 Hangzhou Zhongwei Marketing Department General said: "In the near future, from the situation that our orders are nearly saturated, the intelligent automatic manufacturing system for LED lamps is gradually recognized by the industry, and its input-output ratio is high, which not only effectively ensures the consistency of products. In terms of human resources, it greatly reduces the cost of manual production, solves the problem of recruitment in the industry, and has higher production efficiency, highly integrated production data information, easier management, and an opportunity to compete in the enterprise market."
It is understood that Hangzhou Zhongwei LED lighting intelligent automatic manufacturing system fully utilizes the six independent core technologies: high-speed precision electronic measurement technology, intelligent automatic control technology, precision mechanical technology, machine vision technology, light color electricity comprehensive testing technology, computer Information software technology. Its monthly production capacity is more than 900,000 (LED bulbs), only 6-8 people need to work.
Compared with the traditional manual production mode, it can save more than 150 people and reduce the consumption of raw materials, saving nearly 6 million yuan for the company in one year. It is more accurate, efficient, stable and reliable in terms of consistent assembly of production process, consistency inspection of feeding, semi-finished products and finished products. The product automatically realizes full inspection, providing reliable quality assurance for each factory luminaire, and calibration at the same time. Factory identity, product traceability, production data information is highly integrated, managers do not need to enter the workshop, remote monitoring, making factory management more simple and orderly.
"The introduction of intelligent automation manufacturing system for LED lamps can effectively solve the large-scale manufacturing problems of enterprises, reduce costs, improve quality, further improve customer's ability to take orders, enhance the competitiveness of the market and brand power, and promote the healthy development of LED lighting industry." Hangzhou Zhongwei, the general manager of the market, said that at the High-tech LED Exhibition held on November 25th, the ZK-A1500 LED lighting automation 1.5K production line will be unveiled.

High efficient charging speed for Toshiba laptop, stable current outlet can offer power for the laptop at the same time charge the laptop battery. The best choice for your replacement adapter. We can meet your specific requirement of the products, like label design. The plug type is US/UK/AU/EU. The material of this product is PC+ABS. All condition of our product is 100% brand new.
Our products built with input/output overvoltage protection, input/output overcurrent protection, over temperature protection, over power protection and short circuit protection. You can send more details of this product, so that we can offer best service to you!
Toshiba Adapter,Adapter For Toshiba,Power Supply For Toshiba,Laptop Charger For Toshiba
Shenzhen Waweis Technology Co., Ltd. , https://www.waweis.com